Jill Hedgecock - Rhino in the Room 1-26-19
JILL HEDGECOCK - AUTHOR, PRESENTS "RHINO IN THE ROOM"
This Saturday, Jan 26, from 11am to 12:30pm at WBU Pleasant Hill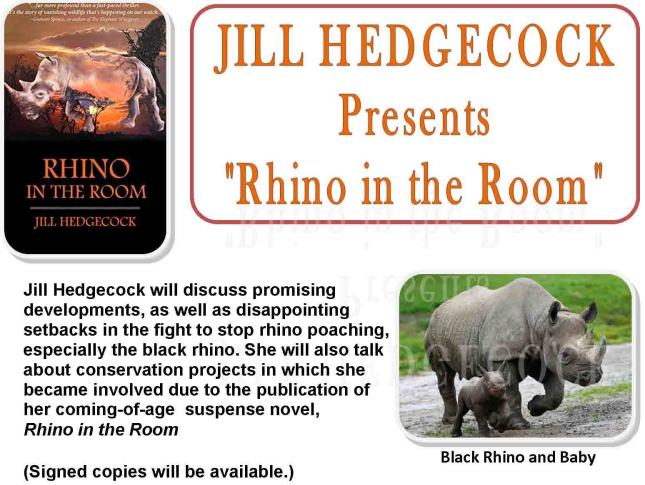 Jill's Bio:
Jill Hedgecock holds a Master's degree in Environmental Management from the University of San Francisco and a Bachelor's degree in Biological Sciences from U.C. Davis. When she visited South Africa and Botswana in 2015 and learned that three rhinos are killed in South Africa every day, she knew she had to take action. As an award-winning and internationally-published author and the Speaker Chairperson for the Mount Diablo branch of the California Writers Club, Jill decided to write a novel that would both educate and entertain. Since then, she published a nonfiction essay, "Rhino-cide," in the anthology, Writing, Language, Culture and Development, Asia vs. Africa To target a wider audience, she wrote the novel, Rhino in the Room, which not only has a plot centered on the plight of the rhino, but celebrates birdlife, through the passion of a key character in the book.