Pleasant Hill, California
Mike & Anne Eliot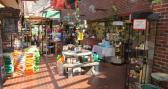 We're passionate about birds and nature. That's why we opened a Wild Birds Unlimited Nature Shop in our community.
Pleasant Hill, California
692 Contra Costa Blvd.
Pleasant Hill, CA 94523
Phone: (925) 798-0303
Fax: (925) 798-9835
Email: Send Message
Store Hours:
Mon - Wed: 10:00 am - 6:00 pm
Thurs: 10:00 am - 7:00 pm
Fri: 10:00 am - 6:00 pm
Sat: 9:30 am - 5:00 pm
Sun: 11:00 am - 5:00 pm

Attract All the Birds for Under $15

Buy 3 Stackables for $14.97 and Get a FREE Feeder ($9 Value).
It doesn't take a lot of effort... or a lot of money to get started feeding the birds. With our Flying Start™ Combo, you get everything you need. It's quick, easy to hang and includes the foods all the birds in your backyard will love.
Great for First Time Bird Feeders

Great Addition to Your Existing Setup