SAVE IN THE DAILY SAVINGS CLUB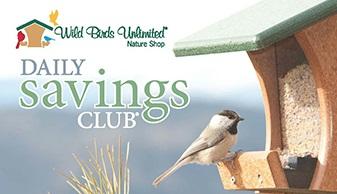 Save 15% on the Every Day Price of Bird Food
Members of the Daily Savings Club® receive 15% OFF the regular price of all our exclusive, fresh, high-quality bird food. That means you get the best price on the Best Bird Food in Town every day! Stop by soon to hear what Mother Nature is doing in our neck of the woods and to save 15% on all of our bird food.
Other Member Benefits
Members earn Bird Bucks. For every $200 you spend over time in the store, you earn a $10 Bird Buck, good for anything in the store.
We also have several DOUBLE POINTS DAYS each year where you earn Bird Bucks twice as fast.
We offer monthly specials just for DSC members. We will email you with different offers each month to help you get more out of your bird watching and feeding hobby.
We offer discounts for members. Any time any of our bird food is on sale, you will get an additional 5% OFF the sale price automatically. In addition, we have certain products that we discount to you everyday.
We also give you a gift just for joining the DSC for the first time.
Joining and Participating is Easy
Just pay a $25 yearly membership fee on your next purchase. You do not need to show a card or do anything extra to receive benefits. Prices will be automatically discounted for you. Points will automatically accrue and show up on each receipt, so you will know when you will be earning your next Bird Buck. At the end of each membership year, we will send you a letter telling you how much you saved and inviting you to rejoin.
Not sure if the DSC is right for you?
Just ask any sales associate to look up your file. They can show you from your past purchases if you would save money by joining.